OwnArea protected accounts block all websites unless trusted. Period.
When a user is signed into Firefox with their "OwnArea Protected Account" all websites will be blocked unless they are on their personal trusted list.

So whenever your young child (or dear old Grandma) wants to see a particular site all they have to do is ask one of their family in their trusted circle.

There could be dozens of extended family members entrusted with making the simple decision if a site is to be trusted and all these family members will link up simply by signing into Firefox with their OwnArea personal accounts.

Moreover, remember the protected one is protected signing into Firefox on any computer anywhere.
Sending a request to unblock a website
In this example, Jill Doe sends a request to see www.nickjr.com to both her Mom and her Dad at the same time.
She can see that they are online because their usernames are both Green, Jill is at her Grandmothers house while her parents are still at work and signed into Firefox with their OwnArea personal accounts.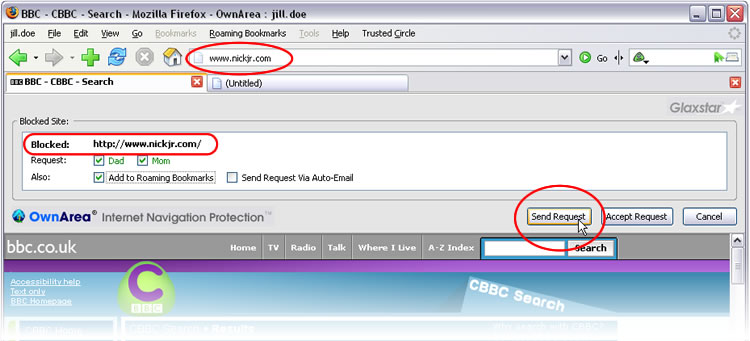 If a trusted circle user is on hand
But if a trusted circle member is on hand close by, they can of course easily get on the computer there and then and click the accept button...

And then they can set the limits and approve the site by entering their OwnArea personal account username and password. The OwnArea account details are of course checked by the system to make sure that the person is on the protected persons circle of trust.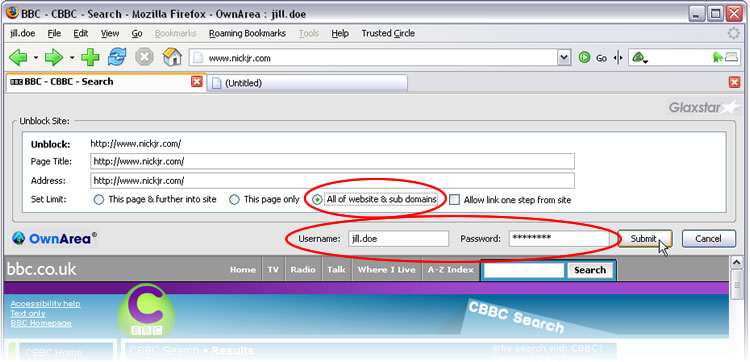 If a trusted circle member is online elsewhere
Ok back to our senario with Jill. She sends a request to her Mom and Dad and Jill see's a brief notification in her browser that the request has been sent. ( This disapears after a few seconds)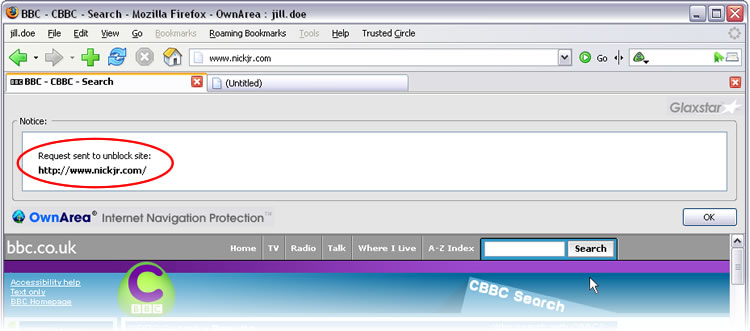 If Jill returns to the website before she's had an answer back from Mom or Dad she sees a note to remind her that the site is awaiting a decision, although Mom and Dad get notified within ten seconds of Jill making the request, let's assume she's very impatient. She can at this stage send a reminder message or add some additional information for example she may want to explain what she wants to see the site for (homework etc..)